Founded in 2017, the J. Pavone String Ensemble presents original compositions that expand on the themes of Jessica Pavone's extensive solo work for viola while incorporating recent research into the effects of sonic vibration on human physiology and emotional health.
Pavone's solo viola music, which stems from years of concentrated long-tone practice and an interest in repetition, song form, and sympathetic vibration, is influenced by the 'folk song,' which lives largely through oral transmission. Each piece's performance may be unique, reflecting the indeterminacy of Pavone's output for solo viola, her folk music.
Providing the groundwork for her compositional language, she created the J. Pavone String Ensemble as an outgrowth. The compositional techniques borrow from and elaborate on traditional music notation, wherein Pavone experiments with improvisatory techniques, alternating between metered and time-based scores and improvised and notated instructions. Specific sections allow the freedom to move between sounds at the performer's chosen rate within given parameters. In this system, the musicians develop the skill of responding to a score and a performance space as well as to each other. Through the spaces left open within the structure of each piece, the musicians re-create the work together during each performance. Sustained pitches and clusters of ensemble sounds generate specific physical and cognitive benefits intended to impact the audience physically and mentally, existing within and beyond music's canonical role.
The ensemble approach focuses on a vision of collective improvisation that prioritizes a collaboratively sewn musical fabric, in contrast to the traditional improvisatory method that prizes the individuality and uniqueness of the soloist. The rehearsal method, influenced by her solo work, attends to how the body plays a role in sound and intention.
The group has performed at the Suoni Per Il Popolo Festival (Montreal), Logan Center for the Arts (Chicago), the DiMenna Center for Classical Music (Manhattan), NYC Winter Jazzfest, Roulette and ISSUE Project Room (Brooklyn), Firehouse12 (New Haven), Black Mountain College Museum + Arts Center (Asheville), the Garner Arts Center (Garnerville, NY), and The Rotunda (Philadelphia). Three studio albums have been released to critical acclaim from The Wire, The New Yorker, Pitchfork, JazzTimes, and San Francisco Classical Voice. Brad Cohen of Jazz Times described her as "a free-thinker who can't be pigeonholed." In 2019, the string ensemble's debut album, Brick and Mortar, was hailed by the Chicago Reader's Peter Margasak as "the most assured, bracing work of Pavone's career." Astral Spirits Records released their second, Lost and Found, in 2020 to critical acclaim from publications such as; The Wire, The New Yorker, NYC Jazz Record, NPR, and Jazzwise. Bandcamp Daily named it a "Best Contemporary Albums of 2020". Chris Ingalls from Pop Matters described their music as "too stunning to lump into genres."
Clamor rethinks the notion of 'women's work' as a space for both collaboration and singular voice. Just as our ensemble is limited and enabled by the written score, so might be individual enunciations of how gender norms limit agency. Clamor utilizes a collective, improvisational vision that prioritizes an intentionally fluid style by employing indeterminacy, navigated by the performers via time-based scores. These principles are balanced with metered notation to shape the overall form of the pieces, reflecting circumventing obstructions to one's freedoms. The alternating music notation styles mirror these restraints and solutions. Through the open spaces, the musicians re-create the compositions together each time they perform, establishing a collaborative relationship between the individual musician and larger group performance.
Clamor's movements are titled after innovations made by women throughout history to circumvent obstructions to their freedoms. Neolttwigi utilizes rhythms representing the 17th-century Korean standing seesaw invented by women who could not freely go outdoors to provide a glimpse of the scenery beyond their property walls. Nu Shu honors the secret language created and used exclusively by Chinese women forbidden to go to school like their brothers. Nu Shu features the improvising soloist in dialogue with the ensemble. Bloom is named after bloomers, which Amelia Bloom designed during the 1850s Victorian dress reform.
Nu Shu features bassoon soloist, Katherine Young, attending to her talent for improvising within a collaborative context. Young is a composer and sound artist who has developed a unique language for bassoon. The movements to feature her have built-in moments of gently structured spontaneity that attend to her original voice.
Clamor was made possible (in part) by the Queens Council on the Arts with public funds from the New York City Department of Cultural Affairs in partnership with the City Council.
With support from: The NYC Women's Fund for Media, Music and Theatre by the City of New York Mayor's Office of Media and Entertainment in association with The New York Foundation for the Arts
Lull, expands on the original lineup of Pavone's recent string ensemble by doubling its size and adding equal parts for cello and double bass while providing commentary on the traditional European model of the concerto, where chamber orchestras perform pieces where specific movements feature soloists. The opening and closing movements of Lull feature the string ensemble singularly, and the two middle movements each feature soloists that were chosen for their extensive work with experimental solo improvisation. Both Brian Chase and Nate Wooley have stellar reputations as instrumentalists who have uniquely expanded the physical and sonic boundaries of solo performance on their respective instruments. This can be witnessed in Chase's Drums and Drones: Decade, a 144-page book and triple album, and Wooley's four-CD set, The Complete Syllables Music. Pavone, Chase, and Wooley have all been an integral part of the experimental music community in New York City for close to two decades and although they have collaborated on projects in the past, this would be the first time they will present their three unique and individual voices in the same project.
Lull is made possible (in part) by the Queens Council on the Arts with public funds from the New York City Department of Cultural Affairs in partnership with the City Council.
Personnel:
Jessica Pavone (composer/viola)
Brian Chase - percussion solo
Nate Wooley - Bb trumpet solo
Aimée Niemann and Charlotte Munn-Wood - violin
Abby Swidler - viola
Christopher Hoffman and Meaghan Burke - cello
Shayna Dulberger and Nicholas Jozwiak - double bass
"The power of these pieces comes from the inherent subjectivity of sound... By centering the pleasure of the performer, we learn more about their personalities, preferences, and pleasures. And that knowledge, in turn, allows us to drift closer to a space of shared understanding and bliss."
- Jonathan Williger, Pitchfork
"Sturdy construction is allied to puzzlingly idiosyncratic design"
- The Wire
"Pavone's music takes time and that is precisely the point. Art isn't meant to possess boundaries, and Lull is an exercise in composition and performance that requires patience and an open musical mind. The pleasures of this album are both odd and exquisite."
- Chris Ingalls, PopMatters
"Pavone's unfurling melodies prove balm-like, with a discrete sense of time"
- MOJO
"Composer and violist Jessica Pavone continues an impressive streak of writing for strings with this new recording."
- Peter Margasak, Bandcamp Daily, Best of Contemporary Classical on Bandcamp, October 2021
Pavone's solo viola music, which stems from years of concentrated long-tone practice and an interest in repetition, song form, and sympathetic vibration, is Influenced by the 'folk song', which lives largely through oral transmission. Each performance of the piece may be unique, which reflects the indeterminacy of Pavone's output for solo viola, her folk music.
"Pavone is, as ever, scrupulously focused, wringing everything she can fro one piece of material before moving on."
- Bill Meyer, the Wire

"For those who like their avant grade simple, direct, and physical, this is a winner." - New York City Jazz Record

"...each musical detail sparks an urge to be plunged into"
- Eli Zeger, the Brooklyn Rail
"...the density of event in each moment is highly concentrated and vividly compelling"
- Bill Meyer, The Chicago Reader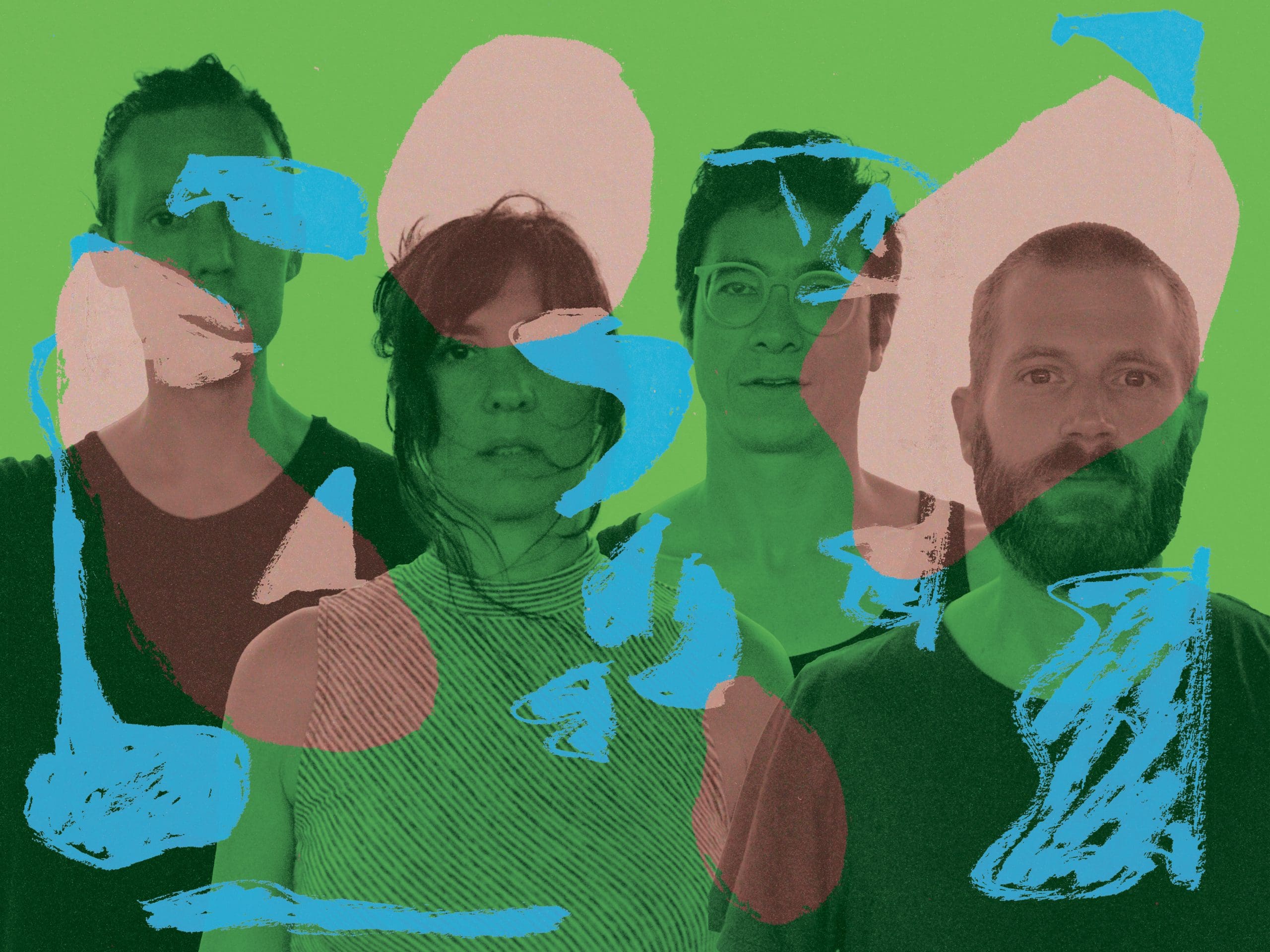 Give audiences a way into the bizarre and a way out of the normal. This ethos guides the U.S. band JOBS. Band members approach the creation of each song fluidly, contributing and editing each other's ideas freely. Songs meld pop structures and electronic textures with wide-ranging vocal and compositional approaches to create a coherent whole—inviting you in to a freakout, and always with a groove.
JOBS emerged from the rich music scenes of New York City, though its members now live across four time zones. Band members Max Jaffe, Ro(b) Lundberg, Jessica Pavone, and Dave Scanlon have collaborated with a wide range of musicians, from avant-garde luminaries Anthony Braxton and Otomo Yoshihide to DIY rock stalwarts Skeletons and members of Deerhoof to pop outfits such as Leverage Models. JOBS has released three records with Ramp Local: endless birthdays (2020), Similar Canvas (2019), and Log On For The Free Chance To Log On For Free (2018).
MARY HALVORSON AND JESSICA PAVONE
Guitarist Mary Halvorson and violist Jessica Pavone's longstanding duo embraces a wide range of musical traditions to create what Time Out New York describes as "a challenging fusion of oblique art song, reflective chamber music and thorny free improv."
Critics have noted their "level of interplay that borders on the clairvoyant" (Troy Collins, AllAboutJazz.com) and likened them to "an avant-garde Thelma and Louise, blazing a trail across the stylistic horizon like a 1966 Ford Thunderbird jerry-rigged from scraps of Eric Dolphy, Django Reinhardt, Appalachian gothic campfires, Charles Ives, and Hendrix-laced psychedelia" (Aidan Levy, Village Voice).
Known as "two of the most exciting figures in New York's jazz and improvised-music community" (Peter Margasak, Chicago Reader), Halvorson and Pavone have worked together in a variety of musical settings over the past decade, most notably the collective quartet The Thirteenth Assembly and the ensembles of the iconic saxophonist/composer Anthony Braxton.
Unlike those larger groups, their duo boils down its diverse influences into intimate original compositions that skillfully blend ethereal vocals and folk-inspired simplicity with an experimental edge, expanding their appeal beyond the boundaries of avant-garde jazz.
"Pavone and Halvorson reach in and touch the brain, activating dreams and aggravations with their spare and insidious tunes," writes the Montreal Mirror's Gordon Allen. "The music challenges what is comfortable, with enough restraint to beckon the imagination, sometimes lifting and carrying along, sometimes dragging us toward what we cannot see."
The group, which has performed at venues ranging from small cafés to major international festivals since 2002, will release its fourth recording this fall on the Thirsty Ear label. Learn more about Mary Halvorson and Jessica Pavone at http://maryhalvorson.com and http://jessicapavone.com
Listen on our myspace page
"Halvorson and Pavone do quite well at pushing, making an excellent case for why genre distinctions are themselves meaningless."
- Dan Ruccia, Dusted Magazine
"More sophisticated and confidently articulated than their previous duo efforts, 'Departure of Reason' is a masterful example of cutting-edge creative improvised music that defies categorization."
- Troy Collins, All About Jazz
"thorny compositions that sound as if female teen punkers the Shaggs received doctorates in the music of 12-tone composer Alban Berg, and then rewrote their 'Philosophy of the World"
- Elliott Sharp
HOPE DAWSON IS MISSING
Following upon her acclaimed first CD for Tzadik, Songs of Synastry and Solitude (2009), Jessica Pavone has created a beautiful and evocative song cycle that meditates on themes of destruction and rebuilding, migration, falsities, and undeniable truths. Adding the heartfelt voice of Emily Manzo and long time associate Mary Halvorson, to the Toomai String quartet along with a dynamic rhythm section, the music is explorative and lyrical. Pavone continues her imaginative exploration of new and exciting ways to present stories and song forms in chamber music contexts with this latest offering.
"She remains a composer whose pop sensibilities and classical training mesh naturally and assuredly, a writer of unique songs that aren't too flashy or tricky, just simply well done."
- Adam Strohm, Dusted Magazine
"The inhabitant of diverse compositional and improvisational neighborhoods, Jessica Pavone has already demonstrated... her ability in turning the basic structure of a song into a charming, occasionally daring orchestration."
- Massimo Ricci, Touching Extremes
 SONGS OF SYNASTRY AND SOLITUDE
Songs of Synastry and Solitude is a collection of songs for string quartet influenced by an interest in the simple beauty of folk songs, the ghosts of all things lost and Leonard Cohen's encouragement to live outside this world.
Performed by the Toomai Quintet
Photo: Erica Magrey
"the openness of arrangement ... makes the album so refreshing and fantastic"
- Andrew Dietzel, Pop Matters
"the music's structure open-mindedly to appreciate its charismatic grace, digging out equal quantities of gratification both from unexpected resolutions and consonance, yet never bordering on trite disquisition"
- Massimo Ricci, The Squids Ear
QUOTIDIAN
This work was funded in part by the Composer Assistance Program of the American Music Center. Performed by Till By Turning
Quotidian is a suite for violin, viola, cello, bassoon, and piano. Composed in four movements:
Hypnopompic, Post Meridiem, Weight of Dusk, and The Darkest Hour examine four temporal landmarks that occur within each single day. Quotidian stems from a belief that the shifting balance between light and dark, as well as other environmental changes, constantly affect us regardless of how conscious or aware we are of them. Our external environment has a direct effect on our moods and feelings and, therefore, in a sense, has ultimate control over all living beings.
Erica Dicker - violin
Amy Cimini - viola
Loren Dempster - cello
Katherine Young - bassoon
Emily Manzo - piano